Exhibition Archive
Monday, April 11 – Sunday, April 24
Closed: Wednesdays
Open upon reservation: Please fill the "Admission Reservation Form" on the website's ASHIYA GALLERY page.
*Reservation starts on Friday, April 1.
Sunday admission is also by reservation only at the moment.
KH Gallery Ashiya is pleased to present the exhibition "Katsue Inoue x Hiroko Koshino: Flowers and Women".
Inoue was given the words "Inoue be a flower, a flower is Inoue" by her teacher Shiko Munakata, and since then she has been consistently creating woodblock prints with flowers as her motif. His compositions of seasonal flowers evoke a supple vitality and the infinite expanse created by the repetition of form. To create deep blacks, Inoue uses "Dobu Sumi," which is made by soaking crushed solid ink in water for three to four months, removing the glue, and then rubbing it with a mortar. His flower works, created over a long period of time and with a great deal of care, are a stark contrast of black and white with a sense of elegance and rich decorativeness that envelops the viewer's heart.
Koshino, on the other hand, has been concentrating on portraits since last year. In the field of fashion, she has long painted sophisticated style pictures, but in her paintings, she depicts women posing with a variety of meaningful expressions. Koshino says that these figures may represent something deep within her. In this exhibition, Koshino will present a group of new works, mainly new paintings, in search of a new expression of the human figure.
Spring is the season when all life shines. We hope you will enjoy the dynamism of life depicted through the motifs of flowers and women, respectively.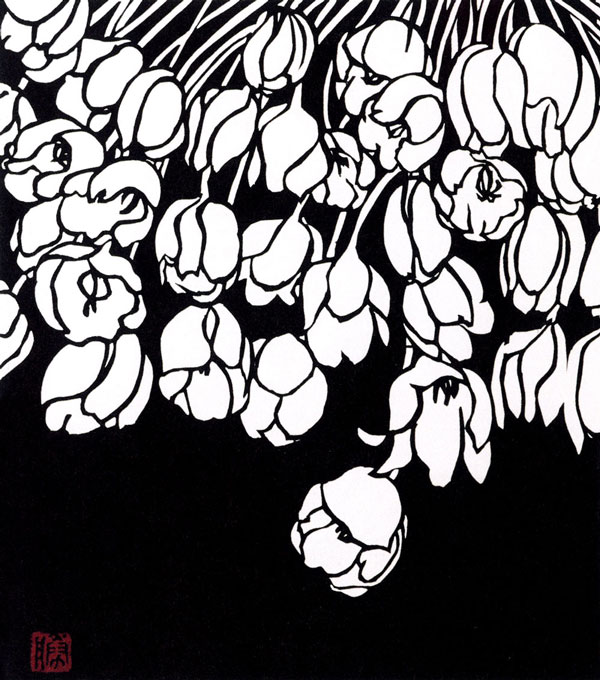 Katsue Inoue, "Spring-breaking Flowers" (part), woodblock print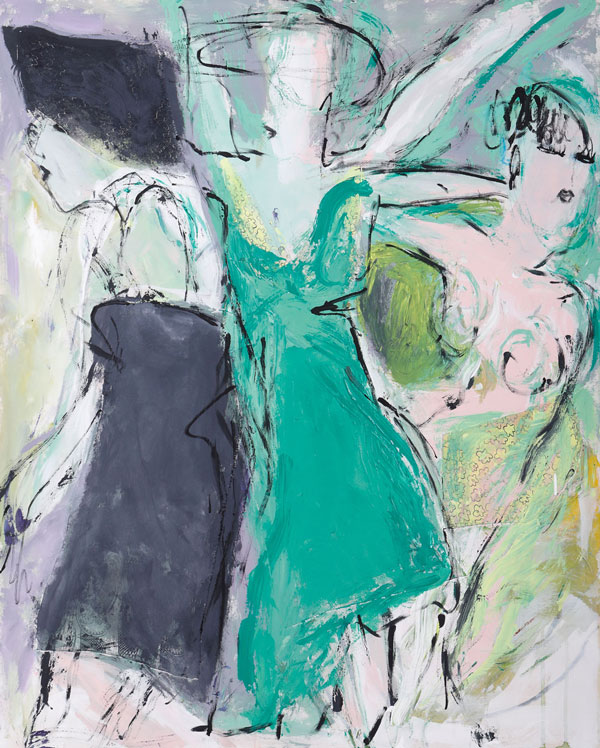 Hiroko Koshino, WORK #2320, acrylic on panel